A room in a 3 bed 2 bath, .5 miles from campus. Currently occupied by 2, one a recent graduate working in town and the other a engineering student at the fort. Looking for Roomate starting March 1, current lease is up May 31 with plans to renew. No pets Off street parking Contact for details, text preferred
A room in a 3 bed 2 bath, .5 miles from campus. Currently occupied by 2, one a recent graduate working in town and the other a engineering student at the fort. Looking for Roomate starting March 1, current lease is up May 31 with plans to renew. No pets Off street parking Contact for details, text preferred
On the Grid and close to the stair steps up to the Fort, this 2/1 offers great views and location. Quiet and friendly neighbors. Here is the link: https://westslope.craigslist.org/apa/d/durango-bedroom/7581452673.html. Please contact Steve at 970-749-3176.
Looking for someone to fill a room in my 3 bedroom house on 4th Ave. The room is available now until the lease ends August 1st. Feel free to contact me if you have any questions!
Email :
jhelle99@hotmail.com
Ya'at'eeh- The Language Hub is now accepting applications for the "All Our Kin Indigenous Language Institute" happening this summer June 5th-June 22nd, 2023. We will be offering language classes for Inupiaq, Navajo, Hopi, and Cherokee. There will also be opportunity to earn up to 4 credit hours at the completion of this program. Scholarships and living stipends are available to those who demonstrate financial need. If you have an interest in learning your Indigenous language, please email Ally Gee acgee@fortlewis.edu for information on how to apply! Thank you.
Email :
acgee@fortlewis.edu
This hoodie commemorates the Ore House's 50th year (local restaurant established in 1972) and features their new logo. This French terry hoodie is lightweight making it perfect solo or as your go-to layering piece. It is made by Lane Seven. Brand new! Size small. $45 or best offer.
Email :
vsmordan@fortlewis.edu
Hey y'all! Are you looking for a better way to commute to campus this semester? You should check out the E-Bike loan program hosted by the Environmental Center! This free loan goes out once a semester to students that, lack access to a car, have difficult commutes, or any other struggle that challenges their daily life. Everything is at no charge to you, so feel free to apply below! (Applications close February 4th) https://forms.office.com/r/PSkPSTVhdu If you have any questions, feel free to email me if you have any questions
Email :
rscarper@fortlewis.edu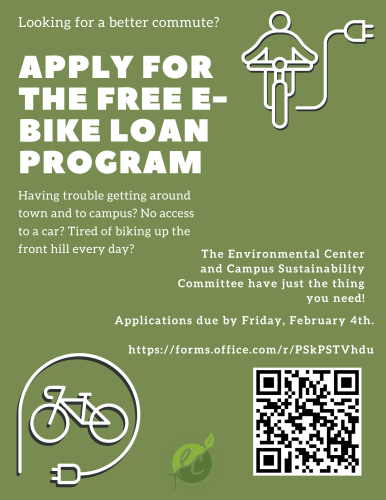 Hey y'all! The Environmental Center is running a transportation survey to help improve commutes to campus, parking and much more. The survey is open to all students, staff, and professors at FLC. Anyone who completes the survey will have the option to add their FLC email at the end which will be entered into a drawing of $10 gift cards You can take the survey using this link: https://forms.office.com/r/VecUKTDnUr If you have any questions, you can reach out to me using the email provided.
Email :
rscarper@fortlewis.edu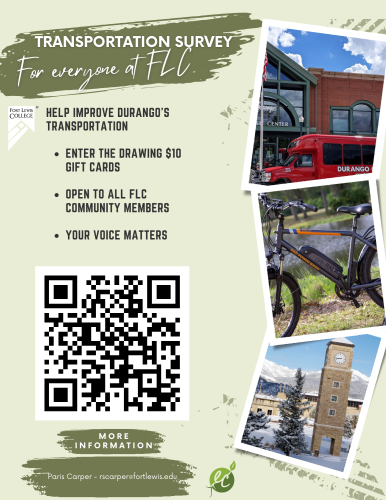 Trying to get a new car, it's in decent condition and drives well. It's a four cylinder with a turbo so it does drive fast. The only major issue is the left headlight is out and needs replaced. If you have any question please contact me at anolson@fortlewis.edu
Email :
anolson@fortlewis.edu
Page 1 of 3