One bedroom Apartment for Rent: $1100 / month + $1000 security deposit Available April 1 Quaint 950 sq ft unit fully furnished with lots of storage King size bed Located one block from the sky steps, easy access to the Fort 4 blocks from downtown, walking distance to great restaurants and shops Washer/dryer and utility sink in unit Contact: Jim C. 925-360-2589 Jimcap3@gmail.com
Email :
Jimcap3@gmail.com
Hello, my name is Taylor and I'm looking for a dog sitter over spring break ( March 17-26 ). His name is gov and he is 1 year old. He is potty trained and very sweet. Willing to pay around $250. If interested, please contact me at (303) 396-7160 :)
2023 P.E.O. GERANIUMS & MORE SALE Be a part of supporting women's scholarships as well as state & local philanthropies! Order at: peogeranium.square.site Online Website for ordering is open from March 17 – April 14 Pick up flowers on Friday, May 19 Christ the King Lutheran Church 495 Florida Rd., Durango 11:30 am– 5:30 pm Various colors of geraniums, petunias, sweet potato vines (2 varieties), Prince Tut and Baby Tut ornamental grasses. Don't delay! Sale ends April 14
Email :
bfrosten@gmail.com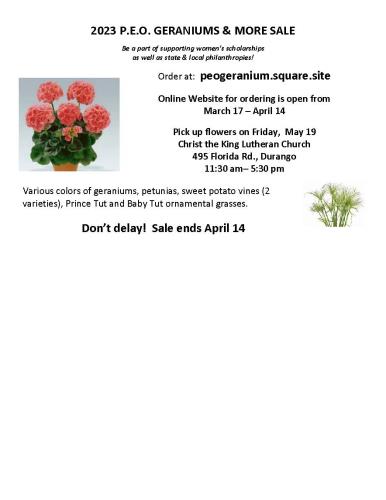 This is a very small, simple, quiet, single room that is separated from the main house. It has its own entrance. However, no bathroom and no kitchen. You will have to go in the main house for those and share with multiple roommates. Furnished with twin bed, easy chair, mini fridge, and fan/electric heater. Convenient location on the grid (7th Ave close to College st) Only sublease for May 6-mid August) $460/ month all utilities included (including high speed wifi). Must give fully refundable deposit of $460 so it's $920 to move in. No smoking indoors (cig and pot ok in yard). This is a sober house with all older responsible and quiet roommates. No parties Call/text/email for questions or to schedule a visit. 480-420-6278 No pets. One dog on site currently available may 6 house no laundry on site no smoking street parking no private bath private room rent period: monthly
Hey FLC, Have you heard of the Fort Lewis College Surplus store? As Fort Lewis updates their furniture, equipment, etc. our warehouse receives the previous items and sells them at a discounted price! You can find these items for bid online at Govdeals.com! Just search 'Fort Lewis College' to browse current items available to bid on! Auctions last anywhere from one week to two, usually Monday - Monday but these days may vary. https://www.govdeals.com/index.cfm
Email :
vmhoaglin@fortlewis.edu
Walnut colored Weber Baby Grand Piano. Used at Fort Lewis College, in working condition however, one string is broken and in need of replacing. Cosmetic damages include minor scrapes and scratches and wood damage on corners around keys. Purchase includes cloth piano cover and small piano bench that opens for storage. Piano features wheels for easy mobility. *You pick up at Fort Lewis College in Durango Colorado* AVAILIABLE FOR BID ON Govdeals.com! https://www.govdeals.com/index.cfmfa=Main.Item&itemid=131&acctid=21705
Email :
vmhoaglin@fortlewis.edu
Room available. Move in available mid March or beginning of April. Flexible move out date. Preferably August. Dog friendly. Fenced backyard. In town. 10 minutes from campus. $575 plus utilities.
Looking for someone to sublet a room in a 3 bdrm/2 bath. Master suite w/ private semi-private bathroom and walk-in closet. Sub-lease could start in June or July and would end in December. No pets. $750/month plus utilities
Email :
wbridges@fortlewis.edu
Texas Instruments 83 plus graphing calculator with case. In great condition. Operating and comes with batteries. Images aren't uploading, text or email for pictures!
Email :
Ladelarosa@fortlewis.edu
2 Bedroom, 1 bathroom on the first floor at Skyline Apartments. The lease goes until December before switching to a month-by-month basis. Dogs are allowed with no breed limitations, just a pet deposit fee. The whole apartment is available, both of us are leaving Durango at the end of the term.
Email :
khallisey@fortlewis.edu
Page 1 of 3